The Moment To Become You is Now!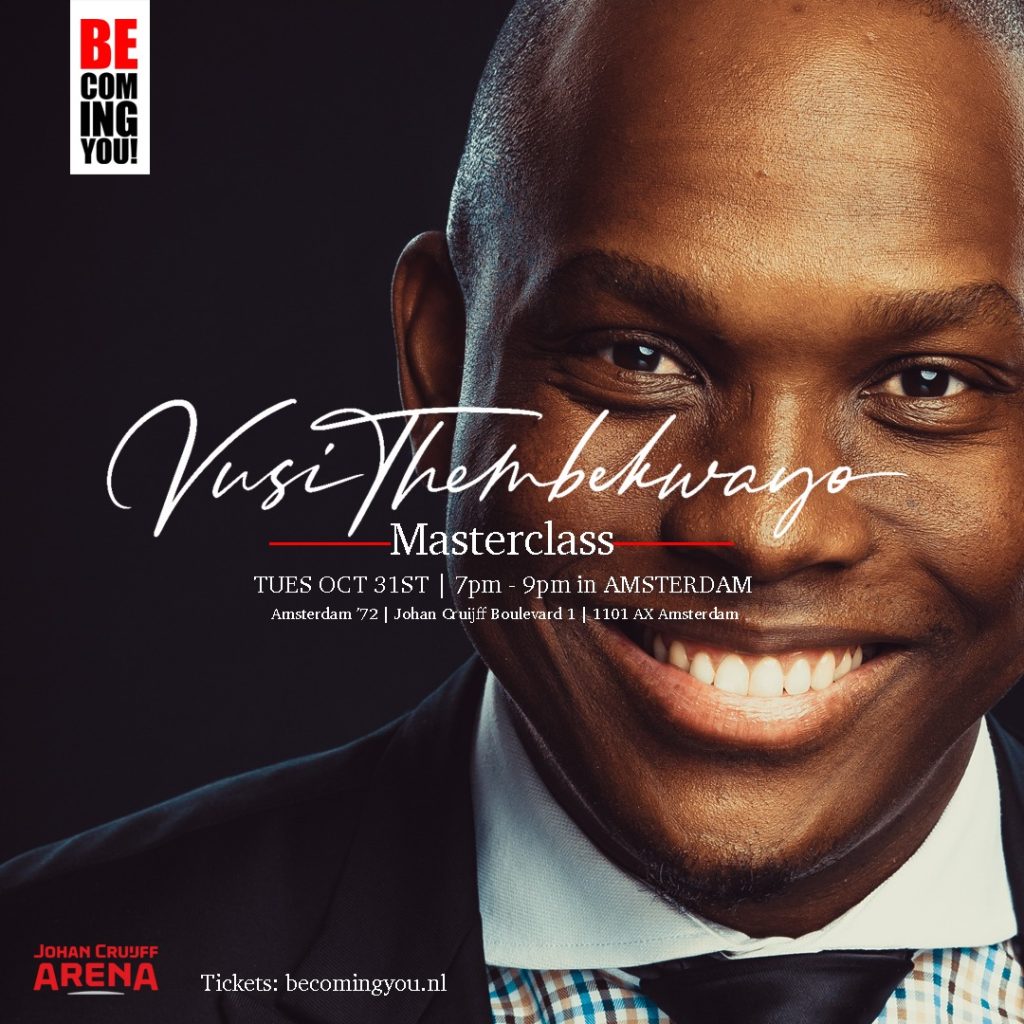 Becoming You invites: Vusi Thembekwayo
We have invited Vusi Thembekwayo for an exclusive Masterclass in Amsterdam at the Johan Cruijff Arena. 
Vusi is a global business speaker, private equity managing partner at watermark Africa, part of Shark Tank South Africa and CEO of MyGrowthFund. 
Join us on October 31st for Vusi's masterclass on "Leadership Techniques for Turbulent Times. 
A valuable experience for startups, entrepeneurs and managers who are aspiring to lead with impact.
Venue:  Johan Cruijff Arena, Johan Cruijff Boulevard 1, 1101 AX Amsterdam Walk in from: 6.30 pm | Starts 7pm | Ends 9 pm
Tickets available on our website
Becoming You invites Vusi Thembekwayo
Locatie: Amsterdam '72,  Johan Cruijff Boulevard 1 1101 AX Ansterdam
Datum: di 31 okt 6:00 p.m.
Becoming You invites Vusi Thembekwayo Tuesday for an exclusieve Masterclass in Amsterdam.
Vusi Thembekwayo is a Global Business Speaker, private equityManaging Partner at Watermark Afrika, CEO of pan-African impactinvestment firm MyGrowthFund Venture Capital & convenor ofleading research boutique IC Knowledge BureauRanked number 1 in public speaking at the age of 17, Vusi went onto receive third place in the world at the English-Speaking UnionInternational Competition.
Click on the link to know more: 
https://linktr.ee/vusithembekwayo
 or 
https://www.youtube.com/watch?v=jHue7XxreZ8
Venue: Amstedam '72, Johan Cruiff Boulevard, 1101 AX Amsterdam
Walk in from: 6.30 pm
Event starts 7pm
Event ends 9 pm
Tickets starting from €150 excl. TAX
Tickets are limited . Save yours now via 
www.becomingyou.nl
So take this unique opportunity to experience Vusi Thembekwayo LIVE in October 2023.
Powered by Prospect Eleven & Becoming You
Becoming You initiates, organizes, and advises on social and cultural projects.
American culture in the Netherlands
ITA performs 'John and Gena'
The String Quartet Biennale Amsterdam and the San Franciso-based Kronos Quartet will perform 50 works in one weekend, to celebrate the quartet's 50th anniversary and its ' 50 for the Future project'. At the Muziekgebouw on May 6 and 7.
Reflex Gallery Amsterdam presents exhibition by Gregory Crewdson
American photographer Gregory Crewdson explores moments of contemplation within the confines of quotidian life, in places of employment, and in moments just outside of those work structures. The exhibition takes place simultaneous to the Rijksmuseum's Vermeer show, who has been an important inspiration for Crewdson. On view until May 6.